Riveting
"Man Made Machines Are Neither Perfect Nor Eternal"
H Hansen Industries Riveting crew has the most experience and expertise in the United States. Some recent jobs include replacing rivets on the Liberty Ship S.S. John W. Brown in Baltimore, MD (one of only two left in the world). We have also replaced Riveted Shell Plates on the Elissa in Galvaston, TX (an iron Barque of 1877). Replacing Rivets at Tembec Inc., a paper mill in Quebec, Canada.
H Hansen Industries has done numerous riveted shell plate repairs on Great Lakes freighters and ocean going vessels.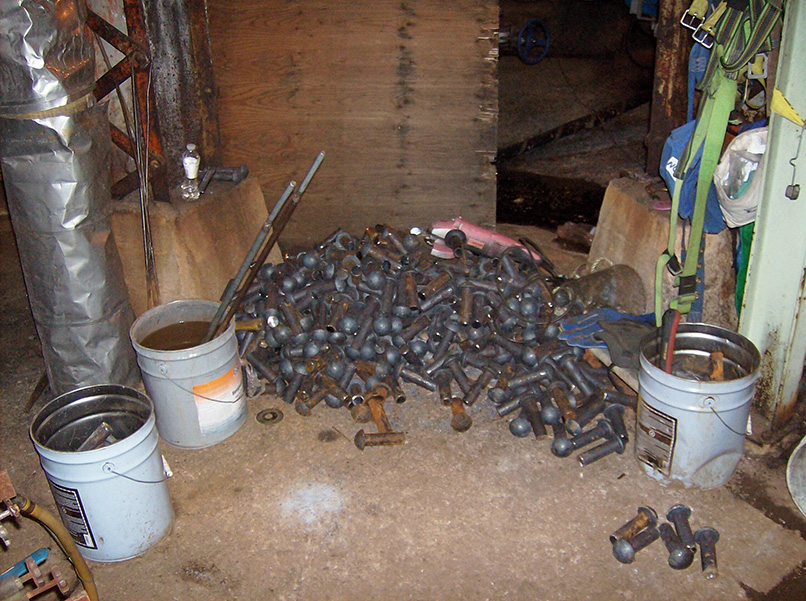 The Art Of Riveting
A Rivet is a permanent mechanical fastener. Before being installed, a Rivet consists of a smooth cylindrical head is called the tail. On installation the rivet is heated and placed in a punched or drilled hole, and the tail is bucked (deformed), so that it expands to about 1-1/2 times the original diameter, holding the rivet in place. This forceful pounding creates a new head on the other end by smashing the tail. Becaause there is a head on each end the Rivet is permanent and can support tension loads.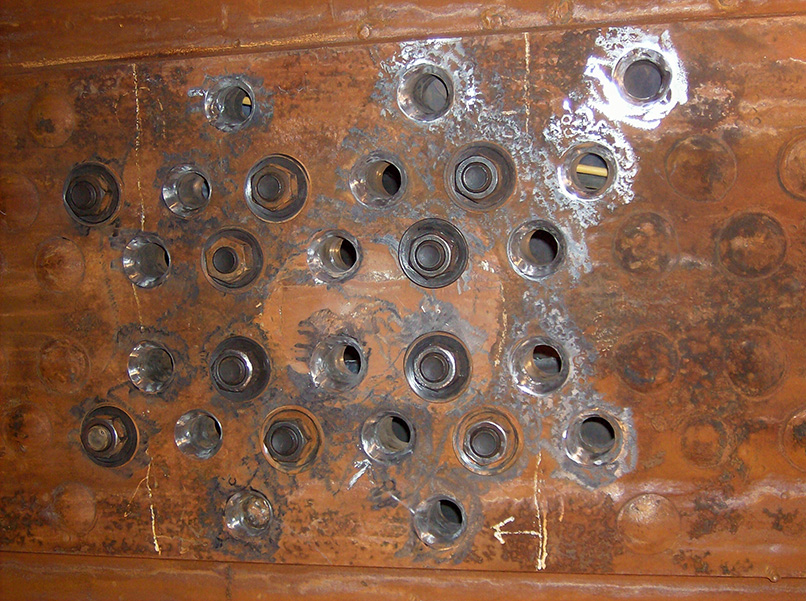 Riveting Testimonial
"Thank you for your presence and the riveting expertise you provided during the recent dry docking of JOHN W. BROWN. Given the nature and extent of the riveting required, I was very grateful for the skill and epxerience you brought to the job.
You and your team did a superb job making the reveting repairs to the ship and demonstrating to a lot of shipyard workers and Coast Guard inspectors the lost art of riveting. Given the number of people who watched the process from the dock, I wish we could have charged admission! The team also provided a great example of what it is to have a strong work ethic -- a practice that is unfortunatley seldom seen these days.
Work progressed very well when you were on scene and shipyard workers had to move along smartly to keep up or get out of the way. I was particularly impressed with the skill, coordination, and enthusiasm displayed by your team. Your knowledge of the ship, your high standard of quality, and the expertise of the team were key factors contributing to the successful completion of repairs. I am grateful for the time you spent explaining to me and others what was required for the various riveted repairs. That certainly helped coordinate the work with the yard and the Coast Guard inspectors who had seen little reveting previously.
...we will again call on you for advice and for the actual reiveting when the ship goes on dock again.
Please pass on my sincere thanks and a 'Well Done' to the members of your team."
Michael J. Schneider - Chairman of the Board
Project Liberty Ship